About National Egg Cream Day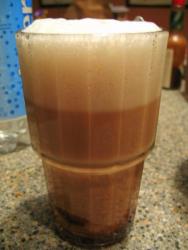 National Egg Cream Day is an event that has brought together both the old and the new of the soda fountain. Many say we are at the start of a renascence of the American soda fountain. The wonderful thing is we still have much left from the past to preserve as we go forward creating something new.
The group of the sponsors of this event represent a cross section of both what is current with the soda fountain and the history of the soda fountain.
Lofty Pursuits is a modern take on a 1930's soda fountain, substituting a toy store for the ubiquitous drug store that used to house these institutions.
The Franklin Fountain may be the preeminent 1890's style soda fountain in the world. It is recreated to perfection in downtown Philadelphia with love, care and detail.
Fox's Syrup, makers of U-Bet chocolate syrup that many of us use for our egg creams ties us to our past as it has been an institution that dates back to 1907. It has been used for this drink for over a century.
P&H Sodas is run by a master chef and is taking soda syrup to high gourmet with organic and original syrups.
American Soda Fountain is the last firm that truly restores and maintains soda fountains.
Our last sponsor is Archie Comics. Archie and his gang have kept the image of the soda fountain alive with Pop's Chock'lit shop run by the fictional character Terry "Pop" Tate. He is our mascot thanks to the wonderful folks at Archie Comics. His shop has a connection with the past, being inspired by three soda fountains that Archie artist Bob Montana grew up with Haverhill, Massachusetts. While these three places are gone, they live on in Archie Comics through today. We want to thank Archie Comics for letting us use Pop Tate as the mascot of this event.